September 2021 Early Reader Box (Ages 6-9)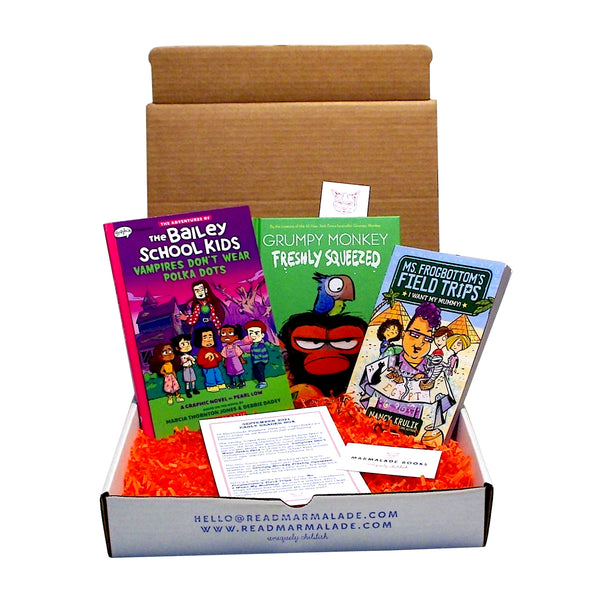 September 2021 Early Reader Box (Ages 6-9)
SEPTEMBER 2021 EARLY READER BOX
Vampires Don't Wear Polka Dots

 

by Pearl Low, based on the novel by Marcia Thornton Jones and Debbie Dadey. The Bailey School Kids chapter books have been a favourite of young readers for many years. Last month, the first-ever graphic novel adaptation of the classic series was published. Vampires Don't Wear Polka Dots is perfect to get readers in a Halloween mood as the Bailey School kids wonder if their new teacher from Transylvania is a vampire!
Grumpy Monkey Freshly Squeezed by Suzanne Lang, illustrated by Max Lang. The very funny Grumpy Monkey series is now available in graphic novel, just right for our early readers. In Grumpy Monkey Freshly Squeezed, Jim Panzee is back with a new story, his hilarious humour, and a few facts about primates and monkeys.

Ms. Frogbottom's Field Trips by Nancy Krulik, illustrated by Harry Briggs. Here's a new series for you to try. In the first installment, I Want My Mummy!, we meet a teacher who's magical map has the ability to transport her class to different places around the world. And there's usually a mythical creature to deal with!