March 2022 Early Reader Box (Ages 6-9)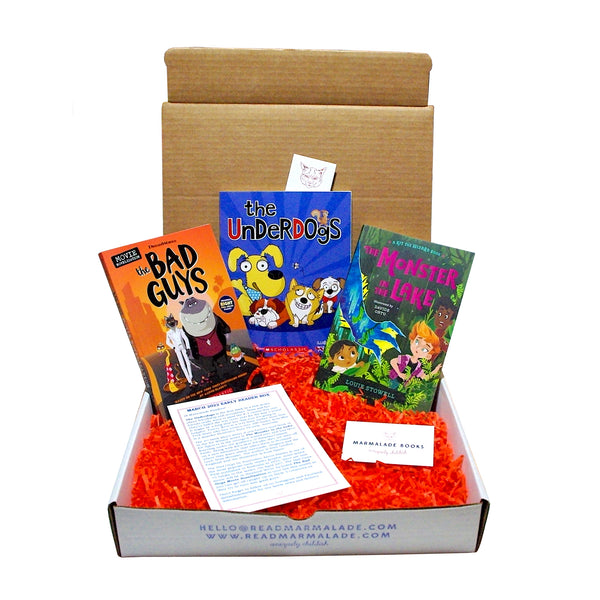 March 2022 Early Reader Box (Ages 6-9)
MARCH 2022 EARLY READER BOX
The Monster in the Lake by Louie Stowell, illustrated by Davide Ortu. This is the 2nd book (don't worry if you haven't read book 1) in the Kit Wizard series. Kit Spencer is the youngest wizard ever and has been learning under the guidance of librarian/wizard Faith. Along with Kit's best friends, they are soon off on a new adventure that takes them to Scotland where they learn about mermaids, dragons and the Loch Ness Monster. Louie Stowell is from London, England and David Ortu is from Spain.
The Underdogs

 

by Tracey West, illustrated by 

Kyla May

. This is the

 first book in a new series about friendship and acceptance. Nova and her dog friends really want to pass the K-1 exams this year. They've failed the test every year for the last 3 years! It might be a long shot but this year it's going to happen. Tracey West is a very busy author from New York State who has written over 200 books. Kyla May is a popular illustrator from Victoria, Australia.

The Bad Guys by Aaron Blabey. The Bad Guys is one of the most popular early reader graphic novel series at this time. First published in Australia in 2015, there are now 15 books in the series. On April 22

, 2022,

 The Bad Guys movie was released in theaters. We included The Bad Guys Movie Novelization in this month's box so readers could get caught up on these 5 creatures as they try to turn into good guys.