October 2022 Picture Book Box - (Ages 4-7)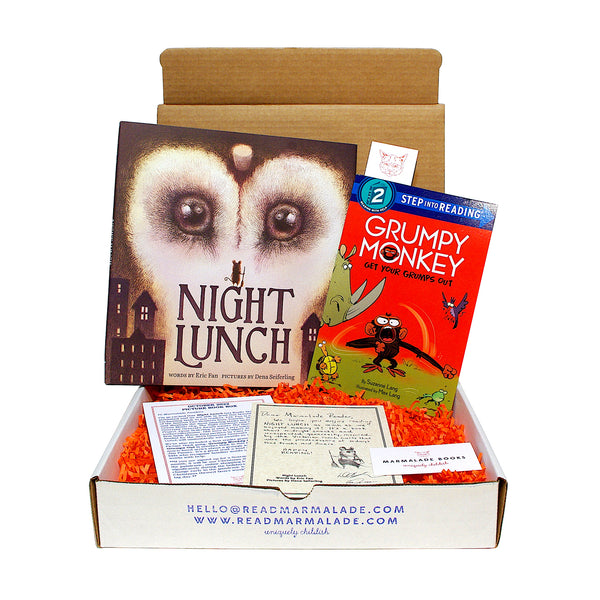 October 2022 Picture Book Box - (Ages 4-7)
OCTOBER 2022 PICTURE BOOK BOX
AS SEEN ON THE MARILYN DENIS SHOW
We are so excited that Night Lunch has finally been published and we are able to send this beautiful and enchanting book to our readers. A dreamy book that tells the story of an owl that runs the lunch cart at night, providing food for all the nocturnal creatures. The owl's generosity is both unexpected and touching. Eric Fan is one half of the famous Fan Brothers from Toronto. They consistently write and illustrate the most amazing books including Ocean Meets Sky, The Night Gardener and the 2020 Governor General's Award winner The Barnabus Project. Dena Seiferling is also a very talented author/illustrator. She lives in Calgary Alberta. Her first book Mouse King (written by Cary Fagan) was a finalist for the 2019 Governor General's Award. Night Lunch will undoubtedly win awards as well. In fact, on November 10, 2022, it was announced that Night Lunch was on the New York Times/New York Public Library 10 Best Children's Illustrated Books for 2022. A great start for this Canadian book!
An exclusive letter with illustration for our readers by Eric Fan and Dena Seiferling is also included in this box.
The second book is a first reader geared for our Picture Book gang. Grumpy Monkey Get Your Grumps Out is another book in this funny and much-loved series about a grumpy monkey named Jim Panzee. It's a great read-a-loud and perfect for kids who recognize familiar words or can sound out words with help.